Dr. Per V. Brüel´s career
---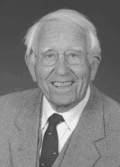 Dr. Per V. Brüel founded Brüel Acoustics ApS in 1992 as a new company for development, marketing and sales of acoustics instruments and acoustic absorbers.
In 1994, Dr. G. Mario Mattia and Dr. Per V. Brüel founded Brüel Acoustics Srl in Rome, Italy.
Dr. Brüel is also the co-founder the Danish company Brüel and Kjær A/S (B&K). This company was started slowly in the period from 1939 to 1942 on some new acoustic instruments. Dr. Brüel founded this company with his friend from the University of Copenhagen Viggo Kjær.
In the Brüel & Kjær organisation Dr. Brüel took care of development of new ideas, ran the feasibility laboratory and was in charge of the sales work.
Viggo Kjær was responsible for all the production planning, economy, financing, staff etc.
From nothing the company grew to become the world leader within manufacturing and sale of acoustics instruments.
In 1988 the yearly turnover was 1 billion DKK (US$ 125.000.000) and the staff included 3.200 people.
In 1992 in connection with the generational change it was decided to sell the company to the German industrial group AGIV.
Dr. Per V. Brüel has spent more than 50 years in "the acoustics world".
He was born in Copenhagen in 1915.
He went to school in Åbenrå in South Jytland.
He studied physics and electronics at the Technical University of Copenhagen and finished his studies in 1938 with a M.Sc. Then he became the assistant to the famous professor P. O. Pedersen, who together with Valdemar Paulsen created the world's first tape recorder.
Dr. Brüel was drafted to the army in 1939 and constructed, at the military laboratory, the first acoustic analyser with constant percentage bandwidth.
In 1942, during World War 2 Dr. Brüel went to Sweden and worked a few years in the acoustical building material field.
Dr. Brüel established the first acoustical laboratory in the Swede at Chalmers Technical University in Gothenburg.
He was named associated professor and lectured in acoustic at the University.
During that period, many acoustical instrument were developed, like condenser microphones, the well known Level recorder, a new Standing Wave Tubes, and the Tapping Machine that was later standardised by ISO.
Dr. Brüel is the holder of 8 honorary doctoral degrees.
Following the sale of Brüel & Kjær in 1992, Dr. Brüel continued his development work during a five-year period of non-competition, within his new company Brüel Acoustic ApS.
This work is still going on and the product range includes to day a volume of instruments and absorbers, which justified the company to start product, marketing and sale of all this advance technology.
Dr. Per V. Brüel, acoustics pioneer, passes away at the age of 100: 2015/04/02.